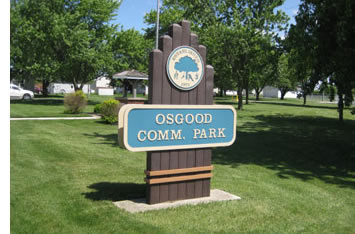 Osgood Park
Osgood Park is located on Main Street (also State Route 705), just to the west of State Route 716.
The park features two shelter houses, a ball diamond, tennis courts, volleyball court, cornhole boards, horseshoes, multiple sets of playground equipment and a walking trail through the woods.
Osgood Park is supported by the village and fundraisers conducted by the board. Your support is appreciated!
RENTAL INFORMATION
The park shelter houses are available to rent for family, community or business functions. The rental fee is $50 for the day. For more information, please contact:
Nick Beasley—937-621-7718
---
OSGOOD PARK BOARD
The Osgood Park Board oversees the maintenance and development of the park, as well as handling funds generated by fundraisers.
OSGOOD PARK BOARD MEMBERS
Bill Stachler
937-670-6540
Cliff Poeppelman
937-726-6930
Sarah Poeppelman
419-305-2449
Greg Langenkamp
419-733-9487
Nick Beasley
937-621-7718
PHOTO GALLERY
Click on the links below to view larger images.