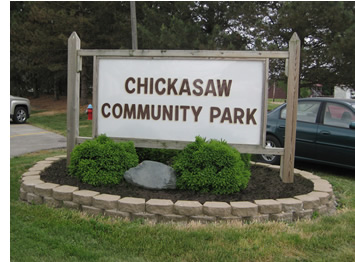 Chickasaw Park - West
Chickasaw Park West is located on Main Street on the west side of the village. The park features playground equipment, a shelter house and ball diamonds. Softball tournaments are held here during the summer.
The Chickasaw parks are funded by the Chickasaw Picnic, which is held annually on the second weekend in June. Your support is appreciated!
RENTAL INFORMATION
The park shelter house is available to rent for family, community or business functions. The rental fee is $100. For more information, please contact:
Jay Schwieterman — 419-733-6811
Download Chickasaw Park Rental Contract
---
CHICKASAW PARK BOARD
The Chickasaw Park Board oversees the maintenance and development of both Chickasaw Park East and West, as well as handling funds generated by fundraisers.
CHICKASAW PARK BOARD MEMBERS
TJ Hess, President
419-953-2752
Karen Rose, Vice President
567-644-5484
Jay Schweiterman, Treasurer
419-733-6811
Jess Schwieterman, Secretary
567-644-4638
Jay Huelsman
937-726-5449
Jay Pierron
419-953-1494
AJ Homan
419-733-1171
Dylan Platfoot
419-953-3770
Isaiah Hein
419-953-9682
Dianna Gerlach
419-305-3228
PHOTO GALLERY
Click on the links below to view larger images.