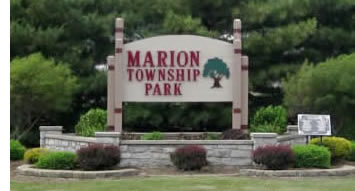 Marion Township Park
Marion Township Park is located on St. Johns Road, just north of State Route 119 in Maria Stein, Ohio.
The south side of the park features a paved drive and parking lot, restroom and concession facilities, four ball diamonds, a batting cage, soccer fields, playground equipment, a sand volleyball court and open grassy areas for recreational activities.
The north side of the park is located in a shaded, woodsy area and features playground equipment, walking trails around the park and through an adjacent woods, a frisbee golf course, a shelter house, picnic tables, outdoor grills, fire pits and small chapel nestled in the trees.
RENTAL INFORMATION
For information about renting the park facilities for a family, community or business function, please contact:
Ryan Stucke — 419-852-5088
---
MARION PARK BOARD
The Marion Park Board is a 501C3 non-profit organization which oversees the maintenance and development of the Marion Township Park. The board conducts fundraisers such as an annual membership campaign (250 Club), Alumni Softball Tournament, Steiner Stock and the 5K run at the Country Fest.
250 Club
The annual membership fee for the year is $30.00, which includes an annual drawing and a fall soup party in the park. The board appreciates your support!
MARION TOWNSHIP PARK BOARD MEMBERS
Lee Heitkamp, President
419-305-8238
Jeff Wolters, Treasurer
419-953-6863
Renee Hartings, Secretary/Concession Stand
419-305-5530
Ryan Stucke, Rentals
419-852-5088
Nick "Shaggy" Pavelka, Social Media/Email Coordinator
419-852-3858
Eric Schroeder
419-296-8570
Kara Ahrens
419-733-7774
Jesse Rose
419-305-6695
PHOTO GALLERY
Click on the links below to view larger images.